Should CEO tenure limits be imposed in Africa's banking sector?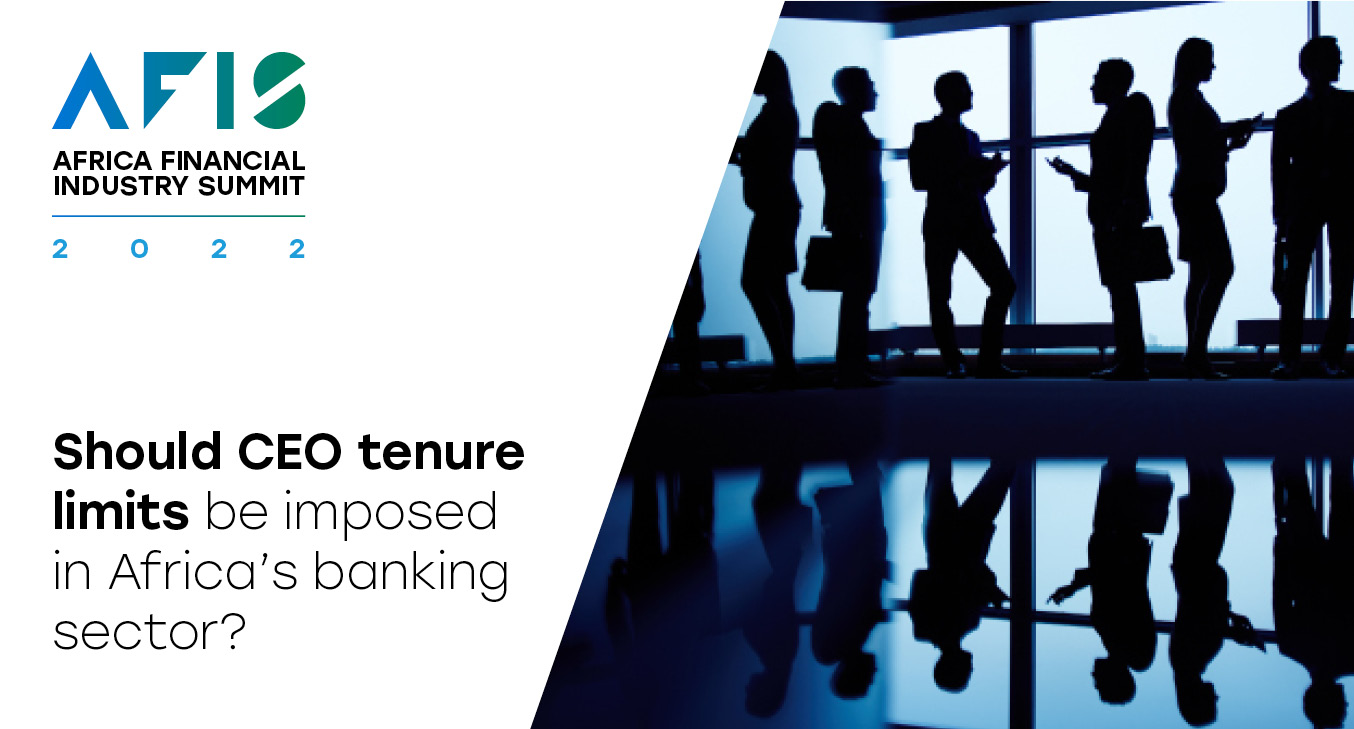 19 Oct 2022
Age and term-restricted tenures for CEO and Board positions in banking are not widespread in Africa despite actions taken by governments like those of Tanzania and Kenya to impose them upon the finance sector.
By Shane Starling
As for any position of power from CEOs to presidents, tenure restrictions such as term limits aim to promote managerial independence and reduce the likelihood of nepotistic or corrupt activity by ensuring a relatively constant changing of the guard.
Though research is limited, some evidence conversely suggests longer tenures for CEOs of commercial banks can bring performance benefits. A 2018 Indian study published in the International Journal of Financial Studies found longer CEO tenures were associated with significant improvements in asset quality and performance of the bank. This is despite an average CEO tenure of three years in Indian state-owned and commercial banks in the period analysed (2000-2012).
A scan of four African banks – Togo-based Ecobank; Standard Bank (South Africa); Equity Bank (Kenya); Attijariwafa Bank (Morocco) – revealed only Ecobank had any formal chief executive limits – a maximum retirement age of 60.
"The Board determines the duration, terms and conditions of the Chief Executive Officer subject to Company retirement policy," said corporate communication manager, Christiane Bossom.
Ecobank's CEO, Ade Ayeyemi, took charge in 2015, and is now 59 years old. He will soon retire and will be succeeded by 51-year-old Jeremy Awori, formerly of Absa Bank Kenya.
The other banks did not respond to queries, but no known policies regarding tenure restrictions exist at any, at least publicly.
Differing tenure arrangements
Marion Navarre, Directrice Conseil – Human Capital at Deloitte Afrique Francophone, observed that tenure limits for CEOs and directors were not currently a big regulatory issue in Africa, especially French-speaking Africa.
That said, even without government mandates, "Many companies want to move CEOs or board members on every 3-5 years, no more than 8-10 years, because of local conflicts or any potential issues they have mind to solve," Navarre said.
In other regions, regulator-issued tenure limits for corporate executives in many industries, and especially those in publicly listed companies, are fairly common as highlighted by 2021 OECD Corporate Governance Guidance.
That document reveals regulator-mandated director and management board tenure limits can range from anything from five to 15 years in many countries.
The OECD found 28 countries, "set a maximum tenure as an independent director, varying from 5 to 15 years (with 8-10 years most common)."
However, it notes that an individual who serves a full tenure may not be compelled to resign the position, but may no longer be regarded as independent; or required to justify their independence.
In Israel, board members can serve a maximum of nine years and must then resign.
In Singapore, directors who serve more than nine years are subject to shareholder voting approval to continue.
In India, directors can serve five years and are eligible for another five years if the company passes a 'special resolution'. Or they can re-apply after a 3-year cooling-off period.
In Iceland, there are no tenure limits but independence explanations are required.
There are clearly as many avenues to achieving executive independence as there are boardrooms.
African banking tenure limits
In Africa, few countries have imposed tenure restrictions as a matter of law.
The Central Bank of Nigeria in 2010 mandated 10-year limits on bank CEOs.
Kenya's Capital Markets Authority in 2016 limited financial sector board members and CEOs to 70 years or younger. The Bank of Tanzania has a 10-year ceiling on banking CEO tenures.
A government-issued mandate is not always enough to achieve compliance, however.
Equity Bank CEO James Mwangi for instance intends to overstay Kenya's age limit with a far-reaching succession plan beyond 2032, when he will be 70 and been at the bank's helm for 28 years.
Navarre said: "At the end of the day most of the companies say we do have a good CEO or board member who is doing a great job so let's keep him. There are rules but experience is valuable."
She added that flouting of tenure restrictions was fairly common practice. "Even if there are rules when you are on the ground you are confronted with the fact that some people are really staying longer than what they are supposed to."
She continued: "The banking industry is very competitive. You have execs coming from Europe, the US, from Africa, English-speaking or French-speaking…So, at the end of the day, they just want to have the right person with the right contacts in the countries because that is the most important for them to do business."
Four major African banks

Ecobank
CEO: Ade Ayeyemi
Age: 59
Since: September 2015 (6+ years)
Annual Group revenues on joining: $2.11bn (2015)
Group revenues 2021: $1.8bn
The Harvard Business School graduate moved from Citibank where he became Johannesburg-based CEO for sub-Saharan Africa after 27 years at the bank, to become Ecobank CEO in September, 2015.
Ecobank has confirmed Ayeyemi will retire once he becomes 60 and have named Kenyan Jeremy Awori as his successor.

Attijariwafa Bank, Morocco
CEO: Mohamed El Kettani
Age: 63
Since: 2007 (15 years)
Annual Group revenues on joining: $881m (2007)
Group revenues 2021: $5bn
The Casablanca-based 63-year-old and adviser to King Mohammed VI of Morocco has sat in the Attijariwafa Bank CEO's seat for 15 years overseeing its development into the Maghreb's biggest bank.

Equity Bank, Kenya
CEO: James Mwangi
Age: 60
Since: 2004 (18 years)
Annual Group profit before tax on joining: Khs 218m (2004)
Group profit before tax 2021: Khs 51.9bn
60-year-old Mwangi has stated he plans to buck Kenya's 70-year age restrictions to retain the role he has held at Equity beyond 2032.
"Equity retirement age is 70. Peter Munga retired as chairman at age of 75, just like David Ansell," Mwangi told Business Daily last year. "When my time comes, it will be really easy [retiring] but I am still under 60."
Mwangi clarified: "I have retired from all the subsidiaries and now on the holding company. So I don't see a challenge because I don't run the business. The company that I run is the holding company, managing the relationship with investors. That doesn't drive performance, but drives relationship with the shareholders. That can be done by anybody."
Standard Bank, South Africa
Group CEO: Simpiwe K Tshabalala
Age: 54
Group CEO since: 2013 (as joint CEO – 9 years) – 2017 (sole CEO – 5 years)
Annual Group before tax profit on joining: R28,608m (2013)
Group before tax profit 2021: R38,208m
Simpiwe K Tshabalala became joint Group CEO of the country's largest bank, Standard Bank, in 2013 before becoming sole Group CEO in 2017.
Chairman and independent non-executive director: Thulani Gcabashe,
Since: 2003 (19 years as independent non-executive director) 2015 as chairman (7 years)_
Standard Bank has received regulatory approval for Thulani Gcabashe, who has served 19 years as an independent non-executive director, to continue beyond the nine years mandated by the King Code and SARB Prudential Authority Directive 4 of 2018 for a non-executive director to be considered independent.
The Prudential Authority has granted the Group an exemption from the provision until May 2023. "The board concluded that Thulani Gcabashe [and another non independent executive Myles Ruck] continue to be independent in character, demonstrated behaviour, contribution to board deliberations and judgement, notwithstanding tenure," Standard Bank said in its 2021 governance report.