#Rapports
Climate finance: How to end energy poverty in Africa?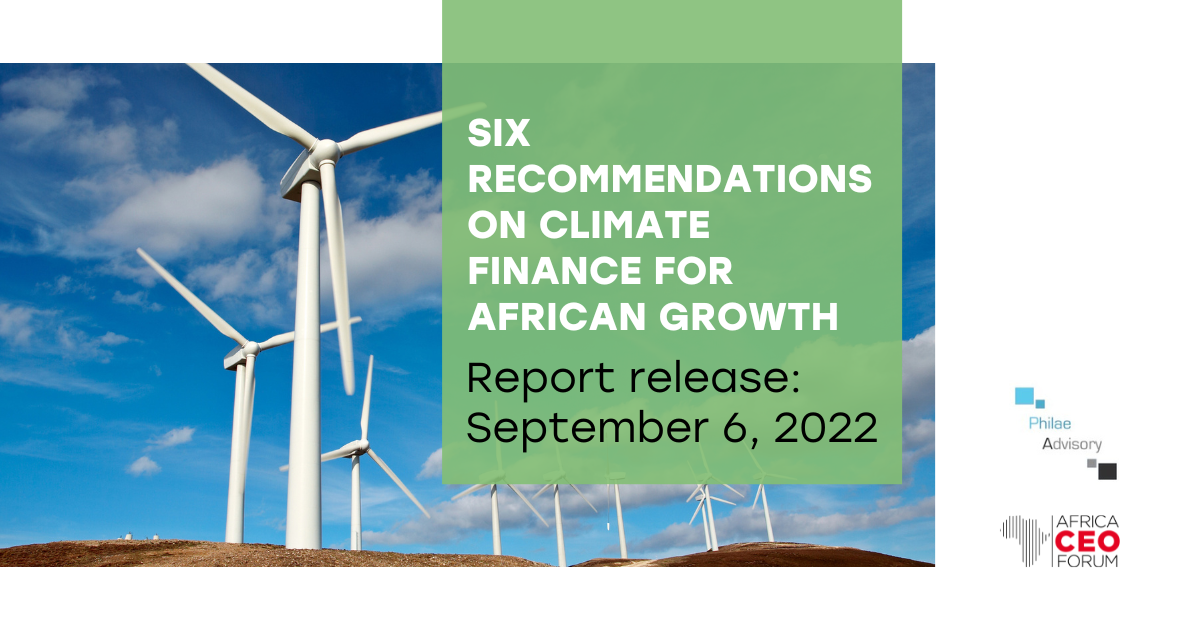 30 Aug 2022
Africa is home to 75% of the world's population without access to electricity, and the trend could worsen with population growth and local electricity infrastructure investment declining in recent years. Yet, with the cost of renewable energy falling dramatically, the financing needs to provide universal access to affordable and reliable green electricity are estimated at 'only' $25 billion annually by 2030. Could climate finance, which includes financial instruments for climate change mitigation or adaptation projects, cover these needs and change the game?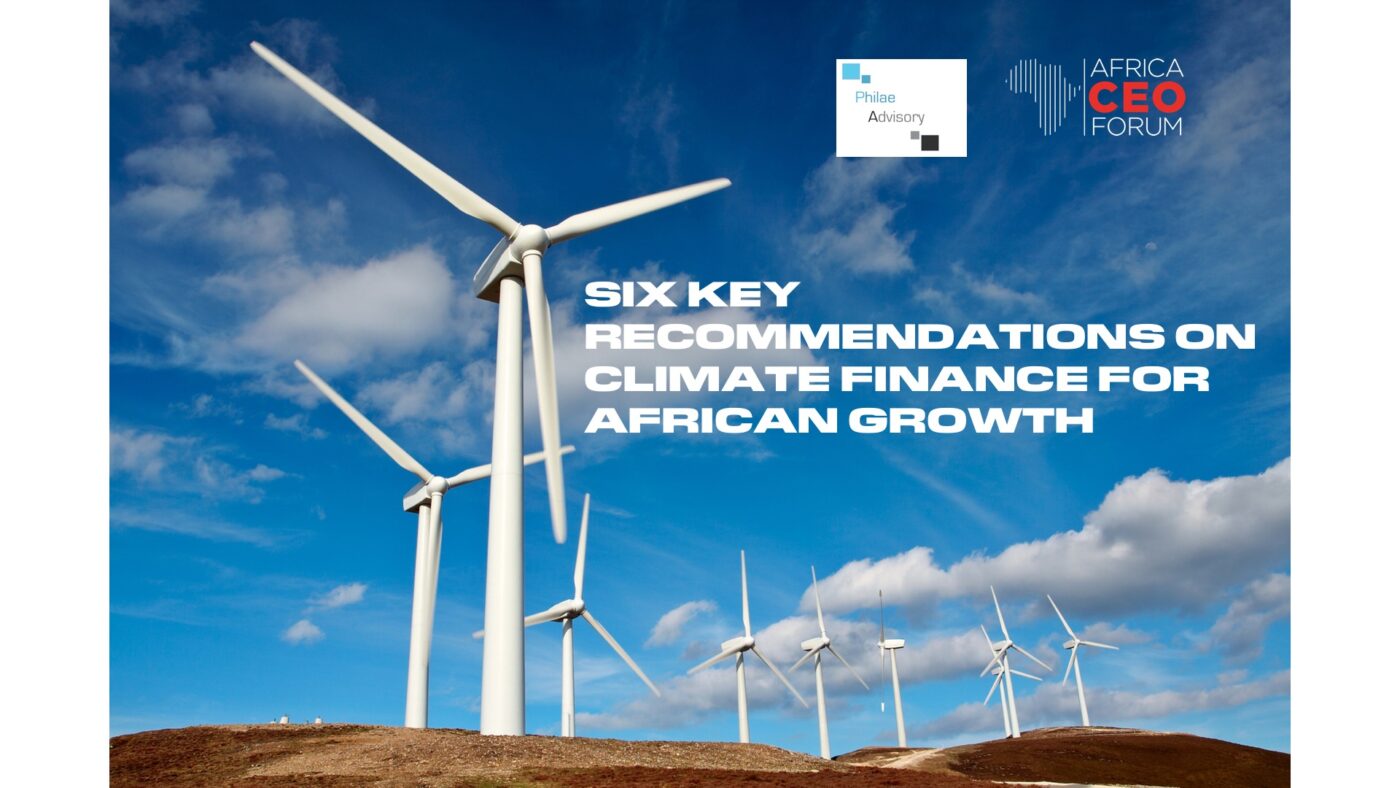 A new report co-produced by the AFRICA CEO FORUM and PHILAE ADVISORY makes six recommendations for Africa to mobilise climate finance ahead of the 27th United Nations Climate Change Conference (COP27) – 7 to 18 November in Sharm el-Sheikh, Egypt.
The continent has enormous potential for renewable energy but requires more profitable projects to capture international investors. At present less than one in ten renewable energy projects reaches financial close. Strong political will and a comprehensive strategy meeting the needs of people and businesses will therefore be key.
#1 – Towards realistic planning and enabling regulatory frameworks
The Paris Agreement requires each country to describe its efforts to reduce national emissions and adapt to the effects of climate change, known as Nationally Determined Contributions (NDCs). In Africa, these climate plans often suffer from a poor assessment of energy needs, without which it is very difficult to achieve the necessary level of production.
In addition to generation, planning must also integrate the rest of the electricity value chain (transmission, distribution as well as off-grid), to ensure that it reaches end consumers.
Chris Flavin, Development Director of Gridworks, interviewed for the report, said: "Accelerating investment in transmission infrastructure and regional interconnections is essential to increase the share of renewables."
Alongside improved planning, establishing fair and predictable regulatory frameworks is also a priority. These frameworks should reduce uncertainties in market access, licensing and pricing, among other aspects, to limit political, regulatory and also financial risks.
#2 & 3 – Limiting financial risk: Key to attracting private finance
Despite being the region most affected by climate change, Africa attracts only 3% of global climate finance. And of the $21 billion average raised in 2019-2020, $19 billion came from public sources, mainly from Development Finance Institutions (DFIs). Renewable energy projects typically have high transaction costs due to the complexity of the technical, financial and legal studies required.
According to Linda Munyengeterwa, Regional Director Infrastructure for Africa and the Middle East at the International Finance Corporation (IFC): "There are very few large, well-structured climate mitigation or adaptation projects that could benefit from climate finance. To play an active role in the creation and development of higher quality projects, IFC has adopted an 'upstream' approach to engage with clients at an early stage, well before projects are fully structured and developed".
This support also aims to define a balanced and bankable risk allocation. DFIs can also play a role as investor-catalysts to improve returns and mitigate risk by providing better access to instruments such as guarantees, which, despite their potential to reassure private finance, remain largely underused.
The International Monetary Fund (IMF) could play a key role in ensuring that international investors allocating resources to low-income countries effectively direct capital towards mitigation or adaptation spending.
#4 – Capitalise on the potential of carbon credits today
Between 2020 and 2030 global demand for carbon credits is expected to increase from around 100 million to 1.5 billion tonnes of CO2 equivalent reduced or avoided. While carbon credits are an important additional source to finance decarbonised growth and perhaps one of the leading mechanisms to mitigate carbon emissions globally, Africa currently accounts for only 1% of the carbon credits issued in the world. It is therefore necessary to better integrate the evolving "voluntary" carbon markets.
Support for the certification process and pre-financing of carbon credits are ways to help project developers access these markets. It is also a question of preparing to operationalize mechanisms defined in Article 6 of the Paris Agreement, which aim in particular at cooperation on mitigation efforts, as established in the NDCs.
#5 & 6 – Gas, storage technology, hydrogen: key elements of a fair energy transition
Gas-fired power plants are not intermittent and can therefore increase the share of renewable energy in electricity systems. Given that natural gas generates about half the carbon emissions of coal, it is relevant to consider it as a transitional energy in Africa.
The contribution of major project financiers (both public and private) is also essential, provided that these projects are included in the NDCs and demonstrate their capacity to be part of a low-carbon trajectory.
Electricity storage can optimise the use and efficiency of the electricity grid. But a tailor-made regulatory framework is needed to mobilise more funds for investments in storage. Authorities should also help a hydrogen industry produced from renewables to emerge by creating appropriate frameworks and helping to overcome initial economic barriers, notably related to the financing of production and transport infrastructure.
A set of policies such as robust carbon pricing or facilitating land rights and environmental permits and approvals are of key importance. Development finance institutions, through the provision of innovative financing, guarantees and technical assistance to authorities, also have a key role to play in this ambition.