13 October 2022
10:00 - UTC
Growth, digital revolution, new players: What does the future hold for Africa's financial champions?
Webinar - ENGLISH / FRENCH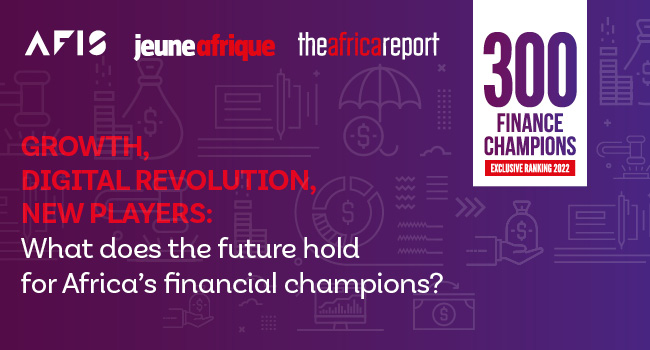 From pandemics to inflation, from energy crises to growing debt levels… while Africa's banking sector has until now withstood multiple challenges and their consequences, the future looks ever-more uncertain. Risks are emerging on several fronts: defaults, falling profitability, liquidity issues. All this while the industry undergoes a profound restructuring to adapt to the emergent fintech universe, set to steal their lunch as key drivers of financial inclusion. 
How are African banks coping with the upheaval? What are their perspectives for the short and medium term? 
On the occasion of the publication of the ranking of Africa's TOP 300 Finance Champions, and a month ahead of the African Financial Industry Summit in Lomé 28-29 November, the editorial teams of The Africa Report, Jeune Afrique and AFIS bring you an x-ray of Africa's banking sector, and asks, 'What next'? 
A webinar in 3 parts  
Presentation of the Top 300 2022 (10 minutes)

 
Moderation : Aurélie M'Bida, Deputy editor in chief at Jeune Afrique, and, Nicholas Norbrook, Managing Editor, The Africa Report
Panel 1: Strategic options for the champions of African finance

 
Speakers:  
Gwendoline Abunaw, Managing Director Ecobank Cameroon and Cluster Head CEMAC, Ecobank 
Aliou Maïga, Director for the Financial Industries Group, Africa, IFC 
Abdelaziz Lahlou, Chief Economist, Attijari Global Research 
Moderator: 
Aurélie M'Bida, Deputy editor in chief at Jeune Afrique 
Panel 2: New players VS traditional actors: partners, or daggers drawn?

 
Speakers: 
Babs Ogundeyi, Founder & CEO, Kuda 
Moderator: 
Nicholas Norbrook, Managing Editor, The Africa Report
Watch the replay: