Adama Coulibaly
Minister of Economy and Finance / République de Côte d'Ivoire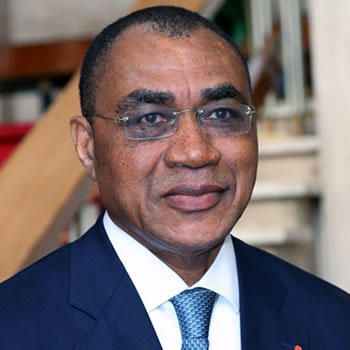 Minister of Economy and Finance, République de Côte d'Ivoire 
Appointed Minister of Economy and Finance since September 4th 2019, Mr Adama COULIBALY is a university lecturer. Highly qualified economist, he fulfilled high functions within the ivorian public administration after a long and successful international career.  
Mr Adama Coulibaly holds a Doctorate in Economics, graduating from the french University: "Université de Paris 2 Pantheon-Sorbonne". 
He started his career in 1983 as university lecturer and researcher at "Université Felix Houphouet Boigny" of Abidjan and at the National Research Center for Social and Economics Studies (CIRES). 
In 1990, he is recruited by the United Nations Development Programs (UNDP). After 6 years of duty, he joins the headquarter of UNDP in New York as senior economist in charge of many countries. Later on, he joins the office of UNDP in Burundi in a crisis exit context as deputy resident representative.   
In 2008, Mr Adama COULIBALY was promoted to Country Director within this specialized program of the UN system. He was in charge of managing the office of UNDP in Guinea and in Democratic Republic of Congo (DRC).  
In this context, he provided a strongly appreciated support to DRC authorities in developping and monitoring strategic programs to improve public finance and result-based management.  
In January 2014, Mr Adama COULIBALY came back in his country to occupy the position of Chief of Staff of the Minister of Economy and Finance. 
He assumed this high responsibility until 4th September 2019, before being appointed Minister of Economy and Finance.