What's needed to reshape Africa's 'inaccessible' housing market?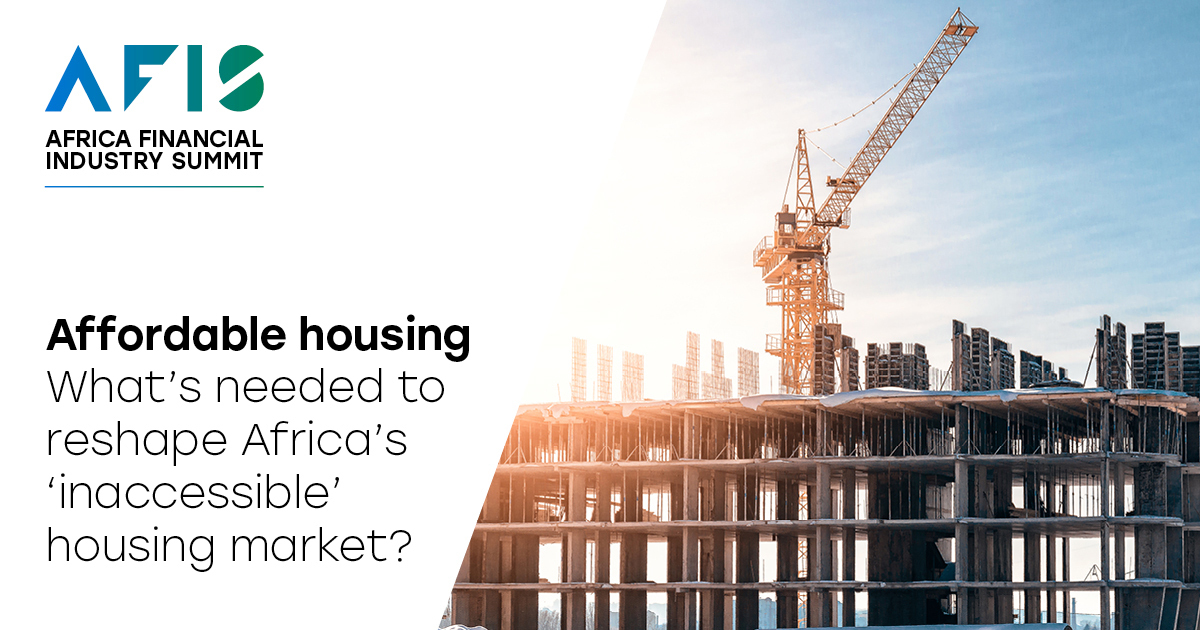 28 Apr 2022
Financial experts at a webinar organised by the AFRICA FINANCIAL INDUSTRY SUMMIT (AFIS) assessed what's required to make home ownership affordable to the 74% of Africans earning less than $2 a day.
By Oliver Nieburg
Government subsidies, data segmenting would-be homeowners into defined groups, and improved green certification standards were among the suggestions from a panel that included one of Africa's largest banks, top mortgage refinance lenders and a leading think-tank.

State of the market in 2022 
The International Finance Corporation (IFC), co-host of the event, estimates a 56 million housing unit deficit across Africa.
Developers only have capacity to supply a small portion of this deficit, and only a fraction will be in the 'affordable' segment, it said
This is troubling for the 54m Africans living in slums today, a figure projected to double by 2030.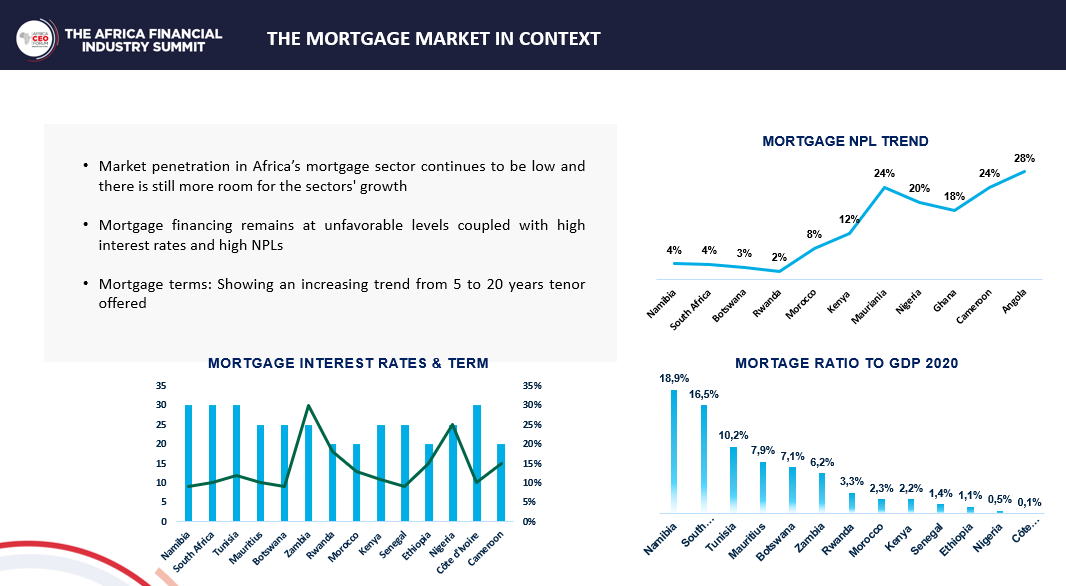 Maureen Katuvesirauina, a global housing finance specialist at IFC, highlighted mortgage interest rates above 18% in most African markets, compared to low single digits in European countries.
"The moment you have such high interest rates, it just becomes inaccessible for the majority of people on our continent," she said.
Mortgage defaults are also widespread, even though mortgages mostly serve the upper end of the market.
Housing finance is largely unobtainable for most Africans who are in informal employment and lack credit histories, concluded IFC's Katuvesirauina.
So, what can be done?

What is an affordable home? 
The panel began by trying to define an 'affordable home'.
South Africa-based Nedbank sees it as homes with a sales price below US $98,000 (ZAR 1.5m). This differs from the Centre for Affordable Housing Finance in Africa (CAHF), which defines affordable housing as less than US $20,000.
Kecia Rust, executive director and founder of CAHF, said governments across Africa must give clarity on definitions.
"We've got lots of countries where policies are still draft. They haven't been finalised. And so, the developer doesn't necessarily know what they can rely on," she said.
CRRH-UEMOA (Caisse Régionale de Refinancement Hypothécaire de l'UEMOA), a Togo-headquartered mortgage refinance institution, identifies affordable homes as lodgings costing up to CFA 25m (US $43,000). For such homes, the organisation offers longer maturities of 15 years and a 4.5% interest rate.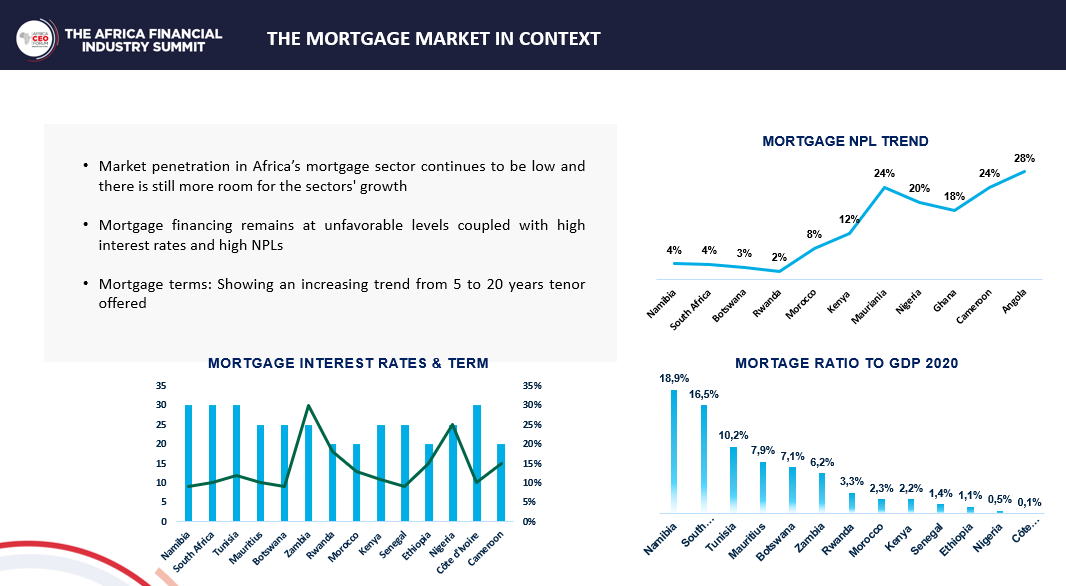 Unregistered slum dwellings 
Nigeria-based Femi Adewole, CEO of Family Homes Funds, said affordable housing would be near impossible for the 74% of Africans earning less than $2 a day.
"Even a $10,000 house will be way out of the affordable means of that population. And that's more than 70% of the people," he said.
The former Ag Managing Director at Shelter Afrique said most housing will therefore be poorly built, in slum conditions without water and sanitation by the future occupants themselves on land lacking formal registration.
High costs for imported building materials leave Nigerian developers operating in the top 5% end of the market to remain profitable, he added.
Adewole said that government subsidies, although not a silver bullet, would be crucial. For instance, by offering tax waivers to private sector developers constructing affordable housing.

Government subsidies: A taboo topic? 
But Kecia Rust of CAHF, the Secretariat to the African Union for Housing Finance, doubted if government subsidies would be enough. "I think we have to face facts that they don't have enough money for the scale of the need."
South Africa for instance has subsidised affordable housing for the last 25 years and has yet to resolve the problem, she said.
Christian Agossa, CEO of CRRH-UEMOA, concurred pointing out that subsidies introduced in the Eighties in Senegal and Côte d'Ivoire have since ceased.
Any subsidies should therefore be durable, he said, adding "not everyone needs or wants to be a homeowner. People can be at ease with a rental scheme."

Filling data gaps 
Shared data will also key, according to the panel.
"The data question is critical…we're all operating blind," said Rust. The CAHF founder called for data segmenting those wishing to buy homes.
"Then we design housing instruments or policy instruments to respond to that nuance of demand," she said.
But Khayise Mashifane, executive of Residential Property Finance, Nedbank CIB, warned: "We need to have a common understanding of what we share, because as it is, I think all financial institutions are using it as a competitive advantage more than for research purposes."

Digital innovation 
Alpha Digicrédit, a digital real estate and financial broker that began operations a year ago in Senegal, claims it is starting to fill data gaps.
The Alpha platform currently has 60,000 visitors a month, allowing the start-up to collect data on the types of properties and areas people are searching for, as well as their salaries and borrowing capacity.
"This data allows us to analyse local demand and negotiate wholesale prices for our clients with the developers," said Dina El Kadry, founder and executive director, who is a former director of real estate credit at CBAO Attijariwafa Bank Group
Alpha Digicrédit negotiates preferential mortgage interest rates with longer maturities as well as lower notary fees and insurance rates. The start-up says this translates into improved access for the low-to-middle income segment.
Clients pay around US $900 for the service, but the start-up claims they will recoup these fees in the long-term.

Affordable and green? 
Ensuring affordable homes are also environmentally sound was another consideration for the panel.
A 2020 report from the United Nations Environment Programme (UNEP) found real estate contributes 38% of global annual greenhouse gas emissions and consumes around 35% of the world's energy.
But can and should green housing principles be applied in Africa's challenged affordable homes market?
Nedbank's Khayise Mashifane said such a move will be inevitable. "However, our developers have indicated that greening costs [particularly certification] makes it unaffordable and eats into their net profit margins," he said.
Kecia Rust suggested development finance institutions such as IFC could fund green mortgages in the affordable housing segment by adapting the IFC Edge standard to recognise that low-income housing would exclude parking and hence be car-free, while money-conscious occupants would use less water.
Femi Adewole added "the whole notion of green housing is essential". But he said European standards on green housing didn't correspond to the realities in Africa.
The Family Homes Fund is thus working on a green standard for affordable housing in Nigeria for which it hopes to engage major certification organisations.
Video replay available in full below: