The secret to growing Africa's mobile money market  The secret to growing Africa's mobile money market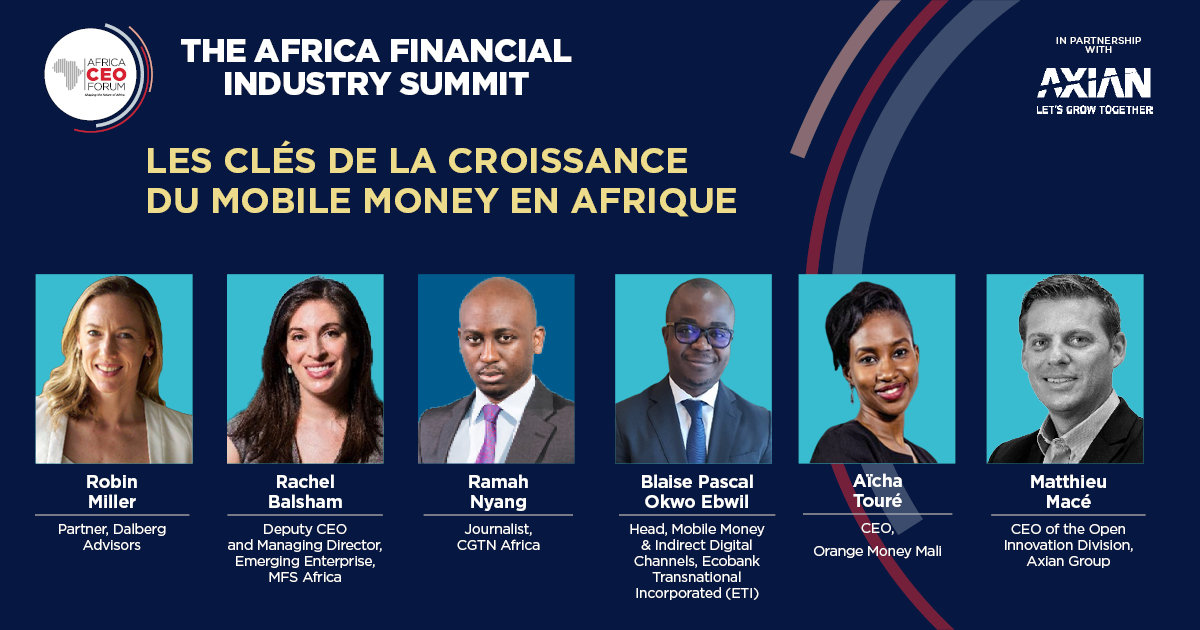 22 Feb 2022
Participants in the first webinar organized by AFIS in May 2021 called for a reduction in cross-border transfer fees and increased collaboration between operators to boost financial inclusion.  
Active mobile money accounts in Africa grew 18% in 2020 to 116m users as transaction values climbed 23% to $495bn, with East Africa leading the surge, according to GSMA.
Speaking at the AFIS webinar on mobile money this month, Robin Miller, a partner at Dalberg Advisors, said Covid had spurred a "perverse positive impact" for mobile money as consumers and SMEs were forced to digital channels.
"Growth for women and access to financial services through mobile money [in Africa] has actually outpaced global growth," she said.
Boosting cooperation to fight cash
However, high cross-border transfer fees and regulation have been touted as barriers to furthering mobile money's expansion across Africa.
"Despite the fact that we've continued to grow, about 400 million adults across the continent still lack access to financial accounts," said Miller. 
Lack of operator collaboration is also believed to be a bottleneck to mobile money growth. More than a third of respondents polled during the webinar said mobile money operators are not ready to cooperate with one another.
Panelist Matthieu Macé, CEO of the Open Innovation & Fintech Division at Axian Group, said that local players in mobile money, insurance and fintech should not be competing. "The only real competitor is cash. Cash is king today," he said.
Macé urged stronger cooperation between African mobile money operators to compete against cash and overseas competitors. "If Africa wants to have its own champions, everyone needs to collaborate," he said.
Blaise Pascal Okwo Ebwil, head of Mobile Money & Indirect Digital Channels at Ecobank Transnational Incorporated (ETI), added: "If we all cooperate, we will be in a position of putting in place more value-added services, which will reduce the need of cash."
He called for greater communication and sharing between African mobile money operators on Application Programming Interfaces (APIs) to overcome regulatory pressure on cross-border mobile money transfers. "This area of collaboration is where we are not looking a lot as players within the market," he said.
Lowering transfer costs
High mobile money transfer costs are another barrier to entry for mobile money customers, with some African regulators pushing operators to cut prices.
Rachel Balsham, deputy CEO and managing director of Emerging Enterprise at MFS Africa, said: "Our ambition is to bring down the cost of cross-border payments in Africa to low single digits."
She said her company was also investing in value-added services, such as merchant and corporate settlement services, that would bring in enough revenue to make cross-border transfers free or low-cost. "That's the direction, irrespective of regulatory action that the market is going," she said.
Last year, Mali's central bank called on mobile money companies to lower prices during the Covid-19 pandemic. But Aïcha Touré, CEO of Orange Money Mali, said she expects regulators to back off on price controls, as operators are unilaterally decreasing prices to spur financial inclusion – which Orange Money Mali did this year and last.
"Every time we decrease the price, we see a strong increase in customer transactions. Even when you are in a dominant position, as we are, you can see that when your prices are high, your customers will not use your product that much," she said.
Are pan-Africa standards necessary?
But Macé of Axian Group argued that without some customer-generated revenue – such as SMS fees during mobile money transfers – telcos would lack a financial incentive to expand to remote areas. "If you really want to reach financial inclusion, you need to have a fair price, but there needs to be [financial] value. Somewhere, someone has to pay," he said.
Macé added that there was little pressure from regulators to reduce prices in Madagascar because companies had made investments in R&D and demonstrated a commitment to financial inclusion.
Balsham of MFS Africa advocated against regulation that would stifle innovation, arguing that any touted pan-African regulation was misguided since mobile money operator APIs, to which central banks have access, already ensure transparency on sender and receiver information. "It doesn't need to be a pan-African standard," she said.
For further insights, you can watch the on-demand webinar 'Mobile money: Are Africa's financial inclusion champions really ready to cooperate?':