The digital pursuit of Africa's cash-only retailers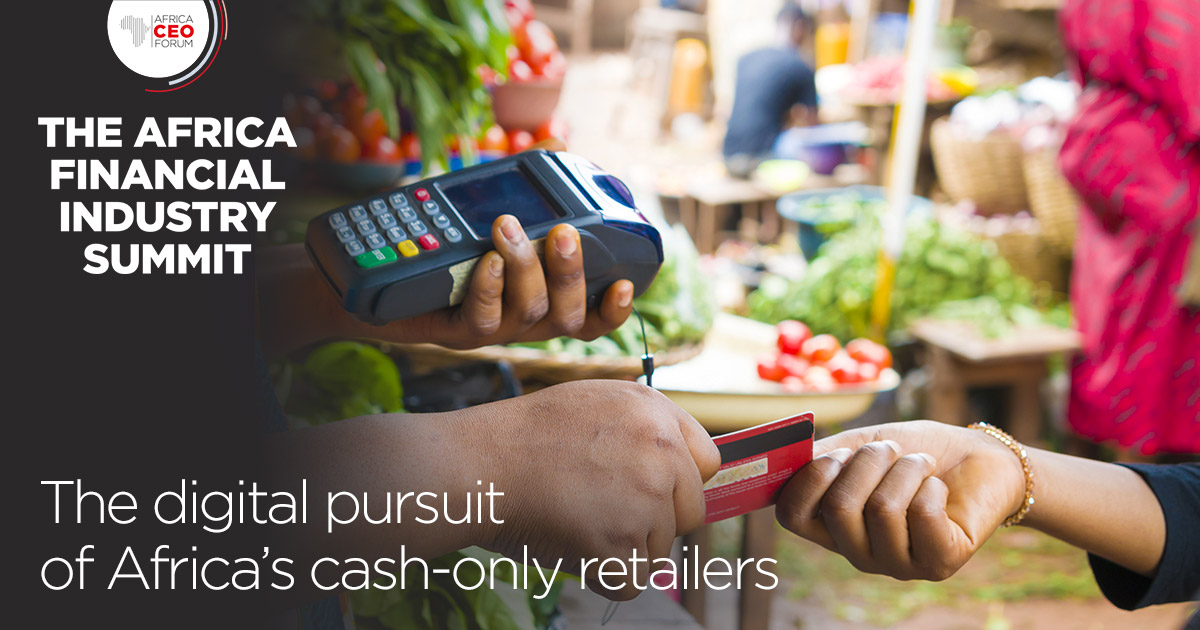 22 Feb 2022
While cash rules in informal retail in Africa, the African financial industry is losing out. Point of Sale devices and mobile payments offer prospects for African banks to collect fees and offer loans. However, merchant distrust and connectivity remain stumbling blocks. Informal retail forms the backbone of trading in many African economies – what are the prospects of bringing these cash businesses online?
By Niamh Michail for the AFIS platform
Digitising cash-only retailers is a $19 trillion business opportunity globally, and this opportunity in Africa is significant. In 2015, the World Bank estimated that only one-quarter of the total $1.5 trillion payments made by micro, small and medium retailers (MSMRs) in Sub-Saharan Africa were electronic and, where cards are used, it is mostly for cash withdrawals rather than for retail purchases. Eighty percent of African card transactions (excluding South Africa) are ATM cash withdrawals, according to Network International.
"The informal cash-only retail market in Africa is significant," said Topsy Kola-Oyeneyin, partner at McKinsey & Company, Africa. "Despite the momentum in digital payments, cash is still 90 to 95 percent of payments in most African countries. When you combine that with a largely informal economy, it begins to give you a sense of the opportunity for banks."
Expanding electronic payments among MSMRs is not just a lucrative opportunity for banks and fintech companies but a way to increase financial inclusion and encourage economic development in cashless markets.
A dependency on cash prevents small merchants from reaping the full benefits of their income. In addition to exposing themselves to theft or losing time travelling to the bank to make deposits, it is more difficult to build up a credit history for loans, invest in new products and services, attract new customers via e-commerce channels, and capture sales data to better understand their customers' purchasing habits and preferences.
Banks have traditionally been cautious when working with informal retailers, applying high Know-Your-Customer criteria that small retailers have been unable to meet. The emergence of fintech start-ups, which tend to have lower KYC requirements or use machine-learning metrics to create a credit profile, is allowing unbanked and underbanked small merchants to partake in the benefits of cashless payments and supply chains.
Much of this digital innovation is taking place in South Africa, where some of the most notable fintech start-ups are based. However, Kola-Oyeneyin sees big potential in Nigeria – Africa's largest economy with a huge informal sector – as well as Kenya, Egypt and Ghana that she pegs as being 'ripe for innovation'.
Demand for digital services also experienced an uplift during the COVID-19 pandemic. Johannesburg-based digital payment provider Yoco, which has worked with over 150,000 small South African businesses over the past six years and processes more than US$1 billion in card payments annually, said it has seen a sharp acceleration in the move to card and digital payments over the past year as a result of COVID-19. Also in South Africa, fintech Nomanini has more than doubled the number of merchants on its platform that connects cash-only retailers to digital services, while it has quadrupled the number of loans issued in the past year.
Scaling up
Partnerships with and investment from legacy banks are giving fintech start-ups much needed capital and allowing them to scale up and reach more cash retailers.
In March this year, Ecobank announced a partnership with Nigeria's Flutterwave, which became Nigeria's second fintech unicorn after closing its Series C round this year. Flutterwave allows brick-and-mortar retailers to create e-commerce stores and receive payments via its own checkout, which integrates different payment methods, such as mobile money wallets and card payments.
Nomanini, meanwhile, raised $4 million in a 2019 funding round led by Standard Bank, South Africa's biggest bank by assets, and inked a deal with consumer-packaged giant Nestlé to serve micro retailers. Nestlé uses Nomanini's platform to provide retailers with access to working capital in the form of physical stock, rather than cash, to keep their shelves stocked with the best-selling products.
Nokuthula Moyo, a spokesperson for Nomanini, said partnering with established companies has been an important part of its strategy in reaching informal merchants.
"If Africa's informal retail economy is to deliver on its potential, it must offer access at scale," she said. "What is missing is a harmonised distribution layer underpinned by formal financial services that provides the tools, insight and capital to fuel growth. From our perspective, there are clear benefits for fintechs to partner with banks or financial service providers (FSPs) to bridge this gap and act as the orchestration layer."
Affordability
Affordability is crucial in onboarding new customers. The cost of cash may be high in terms of security risks or lost interest but micro enterprises have accepted and integrated these costs into their business model for decades. For the small shopkeeper in Lagos, cash is free and easy to use. Why switch to a digital system that charges a fee?
Eighty percent of Yoco's informal retailer customers have never taken a card payment before signing up to its platform. Billing a percentage of each transaction, rather than charging monthly fees or locking merchants into contracts, is a big selling point, it said.
"Whether you're using our card machines or online payment tools, we don't take money unless you're making money," said Riyaadh Hanslo, the company's vice president of risk and regulation. "We have also made onboarding easy – merchants can be up and running and taking payments within a few minutes."
Nomanini earns Software as a Service (SaaS) fees primarily from its banking partners, rather than the small retailers, to reduce this crucial barrier to uptake. It structures its fees in two ways, both of which are calculated based on affordability metrics, Moyo said.
Going forward, as more informal retailers digitise their transactions across Africa, customer datasets will improve, and could potentially be monetised to reduce digital fees.
Johan Maree is chief executive for the Rest of Africa at First National Bank (FNB), which represents FirstRand's retail and commercial activities. It offers CashPlus, allowing both FNB and non-FNB customers to deposit and withdraw cash through a CashPlus agent using a mobile phone, eWallet services, and Point-of-Sale devices.
According to Maree, it is not currently feasible to make such services free as large investments in data, systems and other developments still need to occur. First National Bank has different fee models for its customers, including monthly account fees, interchange fees, Forex fees, and POS fees.
"As these developments mature and scale it might be feasible to make elements of digital payments free to users…As data sources get richer, and we are able to gain greater insights from datasets, it will allow us to revaluate our value propositions and cost models to potentially reduce digital fees," he said.
Accessibility
A major challenge faced by banks and start-ups alike is ensuring services are accessible. Data coverage is not always reliable, and un- and under-banked retail customers may not be digitally literate.
Many digital service providers are making their services available offline or accessible using older generation devices rather than the latest smartphones.
Nairobi-based Marketforce 360, which offers an operating system for retail distribution, claims its sales agent services are "tailored for the African market" because they are available without an internet connection.
Ecobank, meanwhile, has adapted its Ecobank Pay services to allow merchants who do not have a smart phone to use it by entering the QR code manually via Unstructured Supplementary Service Data (USSD). Similar to sending an SMS text message, users can send the QR code to the network and make a mobile payment using a basic mobile phone.
"That's a key thing we are doing: finding different channels that are accessible to all customers," said Nvalaye Kourouma, chief digital officer at Ecobank. "If they have a desktop, they can use the web; if they have a mobile, they use the app; and if they have a basic phone, they can use the USSD code."
Ensuring the interface remains simple and user-friendly for the end-customer is important even when the technology underpinning it is complex. Ecobank has rolled out a chatbot called Rafiki, powered by Artificial Intelligence, that helps merchants troubleshoot and it is currently exploring the possibility of adding voices in local languages.
"That to me is where the future lies: how do you automate using technology to express all transactions within the local culture? [It's about] getting closer to the customer within the cultural environment and empowering the customer with tools they can use and understand, even though the technology behind it might be more complex," Kourouma added.
Challenges ahead
There is room to further digitise African supply chains beyond banking, and already merchants are benefiting from the rise in aggregator-type players offering online supply chain solutions, such as Kobo360, a Nigerian tech-driven cargo and logistics company, and Kenya's Twiga Foods, which links farmers to vendors in a digital marketplace.
As digitisation expands, reinforcing online security to retain consumer trust will be of increasing importance. According to Kourouma, educating customers about safe digital behaviour is an important part of ensuring this emerging digital sector is durable.
"It's very difficult to build adoption and trust but very easy to destroy it. Fraud and security [breaches] are, in my view, the biggest threat to the digital journey," he said.
Kola-Oyeneyin from McKinsey echoed this. "In my mind, the most important thing is trust and seamless dispute resolution," she said. "You are dealing with retailers that are very comfortable with cash. The transition to digital has to be done in a way that doesn't create room for them to lose trust in the system. Extra attention to security, dispute resolution, timely settlement or access to funds to name a few, will be important themes."