How can lenders close Africa's $330bn SME finance gap?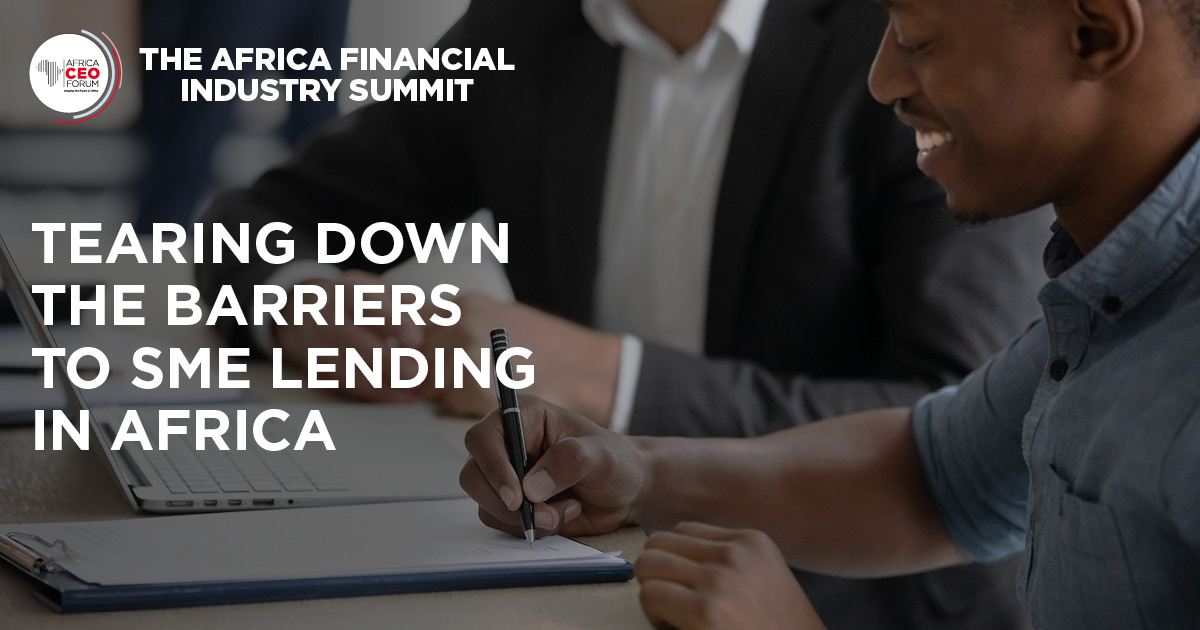 28 Jan 2022
Digital data analysis, capacity building and 'Afrocentric' models are among the avenues to narrow Africa's SME finance gap, according to speakers at the third AFIS webinar.
By Kingsley Kobo
Small-and medium-sized enterprises (SMEs) in sub-Saharan Africa face a huge finance gap of US$330 billion, according to the World Bank. Funding is key for the survival of these 40 million companies which account for 60% of jobs in Africa.
"Sub-Saharan economies cannot grow and develop if they do not take care of the SME segment," warned Sharmila Hardi, global head of banking at the Financial Institutions Group of the International Finance Corporation (IFC), which in response to Covid-19 approved US$2 billion in fast-track financing to support SME working capital.
She was speaking at a webinar held by AFIS on 23 November. Coordinated by the Jeune Afrique Media Group, AFIS (The Africa Financial Industry Summit), is the reference platform for Africa's banks, fintechs and financial regulators.
A data void
Many SMEs fail to secure loans because they are unable to provide key information about their businesses to lenders, according to panelist Sokhna Maïmouna Diop, deputy MD, Finance & Strategy at CBAO in Senegal, part of the Moroccan Attijariwafa bank.
"Knowledge and data are very important. The better we know the activities and value chains of the SMEs, the better we can evaluate the risks and address them," said Diop.
"The financing needs in the West African Economic and Monetary Union (comprising eight mostly French-speaking countries) alone is estimated at US $80 billion," she continued, which presents a "tremendous opportunity" for Financial Institutions (FIs) on the continent.
Key figures from the presentation delivered by Sharmila Hardi of IFC
Supply chain financing
Around 80% of SMEs in sub-Saharan Africa lack bank financing and little headway has been made over the years, according to webinar speaker Philip Sigwart, CEO of Baobab Group, a French company offering microfinancing and financial services to SMEs in Africa and China.
He said 'supply chain financing,' could reduce risks for lenders and increase returns for SMEs. Supply chain financing – also known as reverse factoring – allows businesses to lengthen their payment terms, giving SME suppliers an option to be paid earlier.
"Tying the provision of loans to the purchase of specific goods appears to be a good solution," Sigwart said. "Instead of handing out money to SME entrepreneurs, the funds are used to buy the goods directly from the suppliers." This view was echoed by other participants.
Digital data to expand credit limits
Tirus Mwithiga, group director at Kenya-based NCBA Group, said digital loans, such as those offered by his company's Kenya-based platform, are "an efficient way of lending to SMEs", as the funds are instantly deposited in the borrower's wallet.
"Our M-Shwari product processes 40,000 loan tickets per day while our instant overdraft facility, known as Fuliza, handles four million transactions daily, mostly meant to fulfil trade," he said.
Mwithiga added that the digitised system sheds light on borrower behaviour, opening the prospect of enhancing credit limits.
Guest participant Kariuki Ngari, CEO of Standard Chartered Bank Kenya, also underlined the importance of data, which he said helps decision-making when approving loans and pricing risks.
"The use of technology as an alternative source of data can help SMEs present a track record of their activities to lenders. This could be enough [for lenders] to reach a decision," he said.
SME capacity building is key
All panelists agreed that "capacity building" of SMEs and FIs is the starting point so that lenders have adequate financial data on SMEs to offer credit.
Constant N'zi, group chief risk officer at the African Guarantee Fund, headquartered in Kenya, said: "Big lenders need to put in place mechanisms to help end lenders (local players) lend to SMEs."
He added that SMEs can improve their chances of accessing loans if they are armed with "high financial literacy."
"We and some FIs work with SMEs to prepare them through capacity building programmes meant to enhance their financial literacy before they apply for loans," he said, quite delighted by the "positive feedback" they get from this approach.
Are Western templates best avoided?
Ebiekure Eradiri, secretary general of the All-African Association for Small & Medium Enterprises meanwhile advocated for an "Afrocentric finance policy".
SME lending remains problematic across Africa because FIs deploy a "Western template", which is difficult for African SMEs to meet," he argued.
"We can experiment with communal lending, accessing of loans via business membership organisations and cooperatives, whose members can serve as guarantors for one another, as well as movable collateral and moral qualities," Eradiri said.
Baobab Group's Sigwart agreed.
"FIs need to adapt to the society in which they are operating. Finance needs to be adapted to the way our society operates. A group lending model like Chama in Kenya is a good example of how loans can be accessed differently."
Chama is a type of micro-savings group that emerged in Kenya in the Sixties whereby an informal cooperative pools savings and invests in mutually beneficial projects.
For further insights, you can watch the on-demand webinar 'Tearing down the barriers to SME lending in Africa'.
For further information, watch a replay of the webinar